Thursday night hot spot: Instone Live at Genmai Sushi in Oxnard.
Instone debuts a big hit! Hidden amongst dental offices and storage units sits Genmai Sushi, a tasty Japanese restaurant. Genmai has a large sushi menu and a fully stocked bar. It's a great family restaurant to ta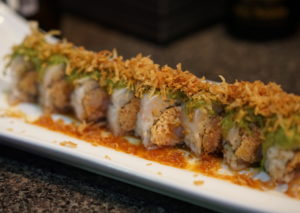 ke the kids but on Thursday nights from 9-12 they have live entertainment – making this a great place for adults-night-out.
Go early to get a table, because the live music surely brings in a large crowd. Instone often plays Thursday nights and are clearly a local favorite. They play a variety of music ranging in genres, so be prepared to hear throwbacks, Top 100's, Spanish music, and even some Selena!!
Now there isn't much room to dance but that doesn't stop the crowd. People dance in between tables and have a great time. The bar has a few stools but people are mostly standing around by 10pm, or finishing up dinner at their tables.
This is the perfect place to have some good food, grab a few drinks and hang out with your friends and family!
Check out this week's footage from Genmai Sushi:
Looking for more great food spots? Try Acai at the Annex in Oxnard.
If you or somebody you know has a business and wants to be featured, let us know!
Email us at hello@vcexperience.com