The Holidays Are Here
Since the holidays are officially here we decided to bring you 3 holiday inspired cocktails to share with your family and friends! These drinks are not only delicious and easy to make, but they're made using few ingredients which can be found at any local grocery store and farmer's market in Ventura County!
Halloween Inspired
"BOOzy Booberry Lemonade"
$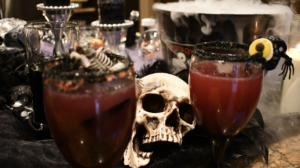 For Halloween we're bringing you a boozy  "Boo-Berry" inspired drink. This cocktail is super easy to make and would make a great addition to any Halloween party (or even a scary movie night in.)
Ingredients:
1 shot of vodka

1 cup of Blueberry Lemonade.

1 lime

1 packet of fun dip

Black sprinkles

Handful of local blueberries which can be found at the farmers market

Small Halloween figurines/decor (optional)
Directions:
Run a lime wedge around the outer rim of a glass
Dip glass in blue raspberry or cherry fun dip, followed by black sprinkles
Add ice to your glass
Pour 1 (or 2) shot of vodka
Add 1 cup of blueberry lemonade
Add a handful of blueberries
Garnish with Halloween decorations/gummy candy
Serve and enjoy!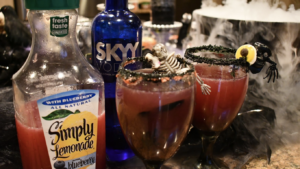 Total:
$11.99~ bottle of Vodka
$1.49 Simply Blueberry Lemonade
$2.00 bag of limes
$2.00 pack of blueberries
$0.99 pack of fun dip
$2.99 black sprinkles
$2.98 various Halloween decor
= $24.44 / makes about 8 cocktails = ~$3.05 per drink
Thanksgiving Cocktail
The Apple on Fire
$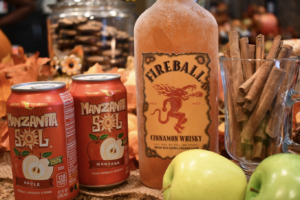 This yummy beverage tastes like apple pie in a cup and is super easy to make! All you need is:
Ingredients:
1 shot of Fireball Cinnamon Whiskey

1 can of Manzanita Sol Apple Soda

Handful of Honey crisp apple slices

1 cinnamon stick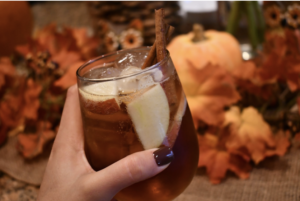 Directions:
Take a glass and fill it with ice.

Add a few slices of honey crisp apples,

Add a shot of Fireball Cinnamon Whiskey,

Fill the rest with a can of Manzanita Sol apple soda.

Top it off add a stick of cinnamon.

Enjoy!
Total:
$11.99 – 1 bottle Fireball
$5.99 – Manzanita Sol 12 pack
$2  – bag of Honeycrisp apples from Farmers Market
$1  – Cinnamon Sticks, bought in bulk
= $20.98 ~makes 12 drinks = ~$1.74 per drink
Christmas Cocktail
Salted Caramel Eggnog
$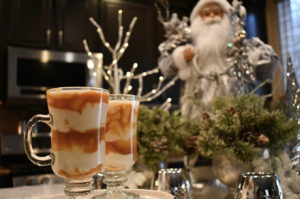 We're putting a small twist on a holiday classic! Everyone knows the holidays are hectic. So much running around organizing, planning, holiday parties, and visiting family. The last thing you want to be doing is slaving in the kitchen trying to come up with a cute cocktail to serve at your holiday party. Why stress? Keep it simple and cheap!
Buy already spiked eggnog, (thank you Costco) and a salted caramel sauce that can be found in the produce section of nearly every grocery store.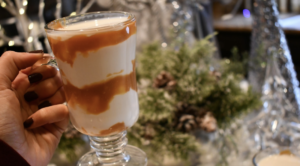 Ingredients:
2 tbsp of salted caramel

1 cup of spiked eggnog
Directions:
Take a butterknife and coat the inside of a glass with salted caramel

Fill the glass with spiked egg nog

Serve and enjoy!
Total:
$9.99 – 1.75L spiked eggnog bottle.
$3.49 – Marz salted caramel sauce
= $13.58 makes about 7 glasses ~ $1.94 per cup