It's lunchtime. You're hungry and you want to enjoy your meal…where do you go? Seabridge Marina. Located in Oxnard between neighborhoods and the harbor. In the quaint shopping center sits a grocery store, a few beverage/dessert shops, restaurants, and the waterfront – making this the perfect place to have lunch.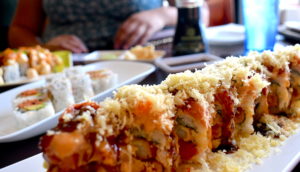 Anaba is a Japanese restaurant situated overlooking the harbor with an unbeatable view. Make sure to come in early, because on a Friday at 11:30 the restaurant was already filled. It only assures you that the food is going to be good…
We hypothesized correctly. The sushi was fresh. The service was great. The view was incredible.
We ordered a Golden Tiger Roll, Spicy Tuna Cut Roll, and a Lobster Tail Roll with the total for 2 people coming out to be $35.86 – and they did not disappoint. It would be one thing to have an amazing view and average food but this sushi is probably one of the best in Oxnard. (Stay tuned though, because that's a big statement and we're buckling up to research that.)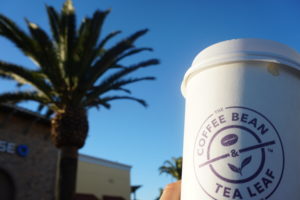 After lunch, we were perplexed with many options for dessert. Should we stick to having dessert at the restaurant? Maybe get a fro-yo at Buttercup Cool Treats? Perhaps a peanut butter banana milkshake from Blenders?
We opted for a cappuccino from Coffee Bean + Tea Leaf and took a stroll around the harbor. The view was incredible! Bikers were riding through, fisherman were preparing their boats, moms were walking their dogs, friends were sitting and soaking in the sun… Seabridge is a great place to spend afternoons. Grab lunch and take a stroll around the marina. For directions click here.
Check out last sushi review featuring Instone Live!
If you or somebody you know has a business and wants to be featured, let us know! Email us at hello@vcexperience.com