VCE's BrewCrew takes on MadeWest Brewery in Ventura.
You may have recognized Madewest tall cans in stores or even on tap at most local restaurants. This time VCE went in and visited where it all began…
Madewest is located in a warehouse near the Ventura DMV. The staff is EXTREMELY friendly and for those of you who don't know much about beer, they are very helpful in helping you make a selection.
The beer is fairly reasonably priced. A flight of 4 it costs $10.16. Madewest offers a wide selection featuring ales, lagers, stouts and porters. This brewery features live music, food trucks, and outdoor seating – there's not much more you could possibly need!
On Saturday's we noticed that many people arrived early and brought their whole families along. Yep – even the dog too! This scene is very laid back and chill, a vibe made for friends to gather for a few beers.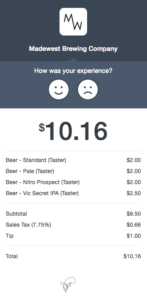 The history behind Madewest makes the experience all the better. MadeWest is the result of two lifelong friends and Ventura natives seeking to share quality handmade craft beer with their community. Their vision is inspired by the spirit of their home state—a spirit of adventure, creative thinking and a healthy respect for the great outdoors—and by our passion for good beer, good design and overall good life experiences.
On tap:
PROSPECT
Vanilla Coffee Porter. Our original porter recipe with a heavy dosing of whole Madagascar Vanilla beans and 100 pounds of single origin coffee beans from El Salvador, roasted by our neighbors Prospect Coffee Roasters.
BUENA
Mexican-Style Lager. Crisp and smooth with a light malt character. This flavorful refreshing lager is the perfect beach companion. Brewed with pilsner, Vienna malts and flaked maize.
CLASSIC
Pre-prohibition style Cream ale. Clean, crisp, flavorful, easy drinking ale similar to an American lager but far more character.
POLI
Northeast "style" IPA loaded with Citra, Simcoe, and Ekuanot hops. This hazy beer packs a bright citrus punch with undertones of passion fruit, pineapple and a smooth mouthfeel from the flaked grains.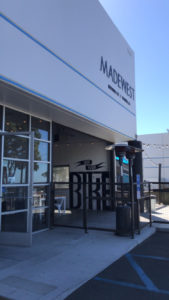 BRAVE
YOUNG BRAVE x BENT PENNY x MADEWEST
Sweet Coffee Blonde with cocoa nibs, vanilla beans, and lactose. This smooth and creamy ale is light in color and loaded with coffee, chocolate, and sweet vanilla character. This beer was brewed in collaboration with The Young & Brave Foundation and Bent Penny Coffee Roasters, using their Warriors Roast.
VIC SECRET IPA
West Coast style IPA showcasing Australian hop variety Vic Secret. This beer has a light malt base of pilsner and wheat with a tropical fruit and pine character.
Trying to work off that beer? Check out our post on indoor cycling at SoulCycle!
If you or somebody you know has a business and wants to be featured, let us know! Email us at hello@vcexperience.com